UV-P
Chemical Name: 2-(2'-hydroxy-5'-methyl phenyl) benzotriazole
Formula: C13H11N3O
CAS NO.: 2440-22-4
Molecular Weight: 225.3
Structure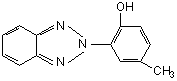 Specifications
| | |
| --- | --- |
| Appearance | White to yellowish crystalline powder |
| Purity | ≥99%(HPLC) |
| Melting Point | 128-133 ℃ |
| Ash | ≤0.1% |
| Loss On Drying | ≤0.5% |
| Transmittance | 440 nm≥95% 500 nm≥97% |
Properties and Application
This product is a high efficient UV absorber, which can effectively absorb 270-380 nm UV light.
Odorless, good thermo stability under high temperature.
Non-flammable, non-explosive, non-toxic, harmless to health.
This product almost does not absorb visible light, particularly applicable to colorless and light-colored products.
Mainly applied to PVC, PS, PC, PMMA, AS resin, ABS resin, PP, PE, etc.
Recommended dosage
PVC: 0.2-0.5 %
PP: 0.15-0.3%
PC: 0.15-0.3%
PS: 0.2-0.5%
ABS resin: 0.3-0.5%
Package: 25kg cartons or drums.