Nandrolone decanoate
Product Name: Nandrolone decanoate
CAS NO.: 360-70-3
Molecular formula: C28H44O3
Molecular structure: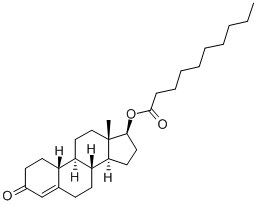 Molecular weight: 428.65
EINECS: 206-639-3
Melting point: 33-37°C
Boiling point: 483.46°C (rough estimate)
Alpha: 32 º
Density: 1.0406 (rough estimate)
Refractive index: 1.4700 (estimate)
Storage temp: 2-8°C
Solubility 45% (w/v) aq 2-hydroxypropyl-β-cyclodextrin: 0.8 mg/mL
Form: powder
Appearance: white to light yellow
Application: Nandrolone Decanoate is an anabolic steroid. Nandrolone decanoate is used in the treatment of osteoporosis in postmenopausal women. Nandrolone Decanoate is also used for some aplastic anemias. Control led Substance.